Who was Guruji?
Sunday, 13 June 2021 14:04
If you have ever attended one of my classes you may have heard me refer to 'Guruji'. Guruji is the affectionate term for BKS Iyengar. He lived to 95 and died in August 2014. He is the 'founder' of Iyengar Yoga, the lineage of the yoga style that I practice and teach. Although he never claimed to have founded Iyengar Yoga, he always said he was just practicing and teaching Yoga, Hatha Yoga.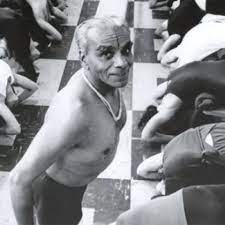 He brought yoga to the West through perseverance and supported particularly by the great British violinist Yehudi Menuhin. Yehudi had worked closely with him to reduce the pain experienced while playing and, of course, Guruji had healed him not just of the pains but also the intense stage fright he had endured.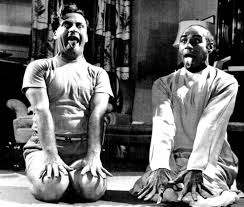 BKS Iyengar's bible on modern yoga
Light on Yoga
was first published in 1966 and has been translated into 23 languages and sold over 3 million copies. In the forward to the book, Yehundi Menuhin says
"Whoever has had the privilege of receiving Mr Iyengar's attention, or of witnessing the precision, refinement and beauty of his art, is introduced to that vision of perfection and innocence which is man as first created — unarmed, unashamed, son of God, lord of creation — in the Garden of Eden".
Light on Yoga
was unique due to the number of B&W photographs (600) depicting the asanas and the simple instructions.
His influence on yoga is unmistakably widespread with the use of the 'prop' used in almost all forms of yoga practiced on the mat. In 2004 he was named one of the 100 most influential people in the world by
Time
magazine.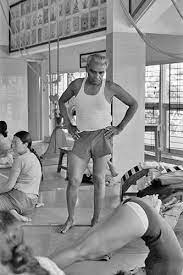 His beginning was not an easy one. He was born into a poor family in Karnataka, India. In this childhood he was plagued by typhoid, malaria, influenza, typhoid and tuberculosis. Doctors predicted he would not live past 20. He decided to spend his life doing yoga and would travel for hours around Indian villages to give yoga demonstrations living only on rice and water.
He was determined and disciplined. He was charismatic and in 1952 Menuhin brought Iyengar to the West where he became known around Europe. One of his students had contact at Allen and Unwin and as they say, the rest in history.
Of course, there were others practicing and promoting yoga at the time, however Iyengar's systematic and physically rigorous style provided an in-road for all irregardless of background, religion or race. His yoga is a blend of art, science and philosophy and did not explicitly teach the spiritual side of yoga. He said he did not want to tell his students what the content of their spiritual beliefs should be. This approach provided universal appeal.
His entrance to the West in the 1960's coincided with the trend of fascination with the 'Orient'.
For example, The Beatles 1960s visit to India to study transcendental meditation, brought widespread publicity to the exploration and experimentation that many young people were looking for.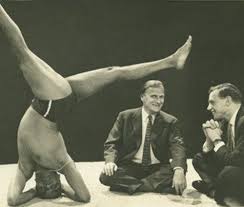 He would appear on television as a source of fascination exhibiting of feats of physical contortions as seen in the photos with Menuhin and David Attenborough. What presents also is a striking sense of otherness and racism.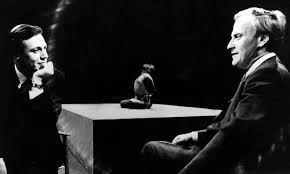 In the interview with Anjali Roa (CNN) in June 2012, Guruji talks about his initial international reception, when in 1952 Menuhin took him to Britain. This is an excerpt from the interview:
The interviewer: "How were you received in England?"
BKS Iyengar: "The British had ruled over India for hundreds of years…It was very difficult for an Indian to move about in England with his head up… [they] treat me like I am a slave, a slave to them. But my mind was stuck only to yoga, to make it popular, and at time it was a very difficult task.'….. As a guest of Menuhin at a hotel in England, I was told "you are black you cannot have your breakfast in the breakfast hall". And In 1956 in America in leaving the plane being the only coloured man I had to leave the plane last… Now you can see the transformation in the minds of those people and now they respect yoga and even Indians."
BKS Iyengar was steadfastly committed to Yoga and its propagation. A father, a householder, and a vegetarian, he was still practising asanas for three hours a day at the age of 90.
We are still locked in, unfair as it is, please support us by attending our Zoom classes, subscribing to our Content Library, rejoining the next course, and encouraging your friends and relatives to join the next round of Beginner's Course (12th July).
Namaste,
Nicole & Tom
Yoga Path
An Iyengar Yoga School
5 Hall Street
Newport 3015