Does anyone wear trousers any more?
Sunday, 02 August 2020 15:08
What is it with the yoga pants? Irrespective of size or age they are seen everywhere, at any time.
How did yoga get to this point? How did yoga get to Melbourne in 2020?
Here is a snapshot of the history of yoga*:
It started thousands of years ago BCE. It was first mentioned in the ancient Hindu text the Rig Veda. Initially, there was little reference to yogasana (the postures of yoga) as there was an emphasis on sitting for meditation. The range of asanas began to develop much later around the late 1800s to early 1900s. Many asanas have their heritage in gymnastics and others developed from ancient texts.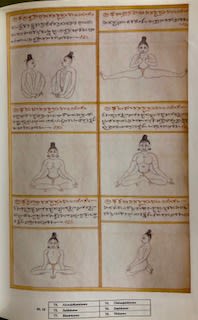 From a Western perspective, historically there was also a fascination with exotic, with the foreign. Many searched for alternative forms of spirituality, seeking different ways to look at spirituality other than Christianity. The orient became a point of interest. The National Geographic magazine was founded in 1888, around the time that Swami Vivekananda toured Europe and the US. Articles and full-page photos of Tibet i
n 1901 gave instant access to this other exotic world. The photograghic representation of the asanas were now able to be viewed without the lengthy description of complicated asanas.

Vivekananda and many of his compatriots were ardently supported by wealthy women, providing them with the means to teach meditation and yogic breathing exercises in the West. Yoga serviced a new found fascination with spirituality and the power of the mind. The boom of health spas in the 1920s and 1930s sparked interest in physical fitness in affluent circles. Over time This stimulated an interest in the physical postures of yoga into the mainstream.

In the post war era a focus on beauty and health flourished. Yoga appeared on ABC television in 1948, but after Britain had a mixed reactions to it, the network shelved it. In Australia, the Theosophical Society published information about yogic philosophy from its beginning in the 1880s, but there was no real interest in classes until 1949 when Martin Volin opened his school in Sydney. Roma Blair's Sydney television show Relaxing with Roma ran from 1962 for 14 years.
The Beatles 1960s visit to India to study transcendental meditation, of course, bringing widespread publicity to the exploration and experimentation that many young people were looking for. In some cases, the growth of communes did not end well, Rajneesh for example.

In the 1980s the fitness craze went off and with it an interest in the practice of asana, more so than pranayama and meditation. Although it couldn't compete with Jane Fonda and Raquel Welch. Many Iyengar schools started to pop up in Melbourne and certainly many gyms were offering yoga. BKS Iyengar first came to Melbourne in 1983, and the iconic Rathdowne Yoga School started up in 1980s, spawning Melbourne's founding Iyengar Yoga teachers. As word spread, Many businesses became successful from the popularity of yoga, to the point where now we have international brands such as the clothing giant Lululemon. Making the wearing of the pants almost more important than doing the yoga!

*Based on an interview by Keri Phillips "Yoga in the West" ABC Radio National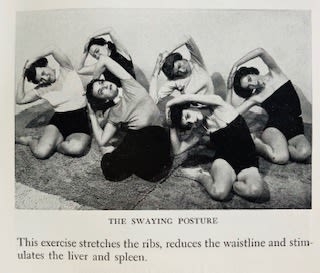 Doesn't matter what you wear when you practice at home.

Get on your mat :)

The Content Library is now available on weekly subscription ($24/wk cancel at any time). 80+ classes to choose from, and growing weekly.
Subscribe Now
Want to do unlimited Zoom Classes and the timetabled Content Library classes? (Currently, 4 Zoom classes and 3 Content Library classes)
Get your Lockdown Pass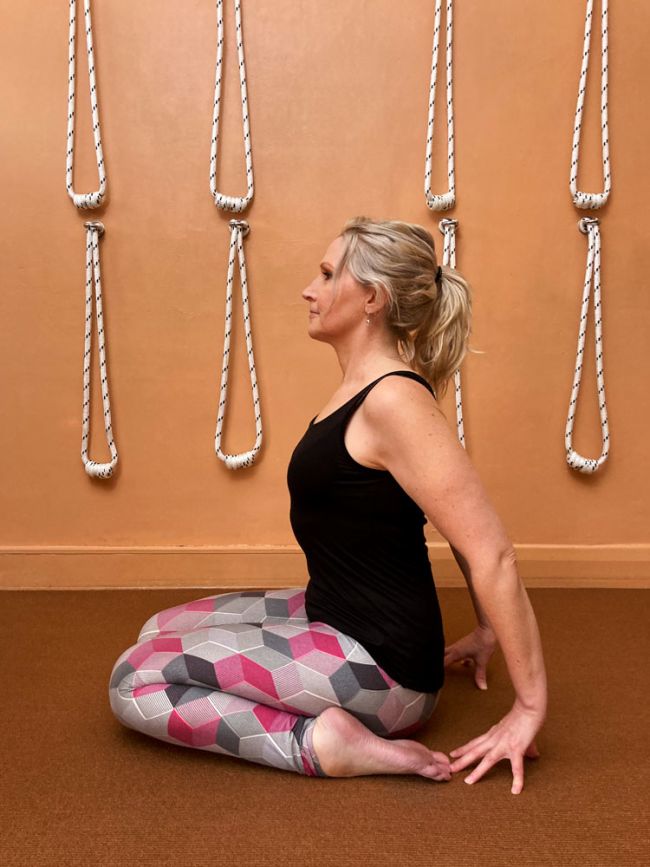 Images:
Beatles Ashram in India (image credit #tourmyindia)
Yoga Asana sketches from
The Yoga Tradition of the Mysore Palace
by N.E. Sjoman (sketches dated between 1811 and 1868)
Black and whites images from Indra Devi's 1953 classic
Forever Young, Forever Healthy
(Prentice Hall)
The Beatles in Rishikesh, 1968 (credited to Saltzman)
Famous photo of Raquel Welch in Baddha Konasana (image credit: looks like the work of Andre Weinfeld to us?)
Nic in some funky yoga pants (c) 2020 YogaPath
Namaste,
Nic & Tom
Yoga Path
An Iyengar Yoga School
5 Hall St
Newport Vic 3015
www.yoga-path.com.au