Yoga and Adversity
Friday, 21 February 2020 19:01
Yoga & Adversity
Adversity 
-
Definition:
unfavourable fortune or fate; a condition marked by misfortune, calamity, or distres. Life can be difficult. Disasters and catastrophes occur regularly, and sometimes even daily. Well, it feels like that anyway.
When I was growing up my mother would say to me: "It's not what happens to you, it's how you react that really matters."  So it's about understanding what's important and seeing things in perspective. If you think back over your life and you recall an event that caused you misery and suffering, with time, as your perspective changes, you may wonder what all the fuss was about. You change with the ability to see things with a different view point.
So what has this got to do with practicing a downward facing dog (Adho Mukha Svanasana) on your mat? When you learn to feel and experience sensations in the asana(pose) you observe difficulties; places you are jammed, areas that hurt. It is a type of suffering. You are entwined with your ego and your brain tells you that lying down would suit you better…
What do we learn about our true character when we are faced with the truth of suffering? You are forced to investigate your psychological holding patterns, or psychological grooves. The past impressions, memories and ideas about yourself prevent you from truly moving forward.
"History is always falling in our lap. To attend to the truth of what is happening, to the immediacy of our experience rather than our ideas about what is happening, teaches us how to handle the events of experience with more clarity."
(Michael Stone,
The Inner Tradition of Yoga
p.125)
Pleasure and sensory gratification are at the forefront of our lives. We are easily sucked into the endless cycle. The practice of yoga gives us the opportunity to observe our bodies, our breath and our mental processes. By reducing the chaotic pace, the endless mind chatter, we have the space to be silent and we can breathe again. Michael Stone says:
"And everything is crafted out of silence."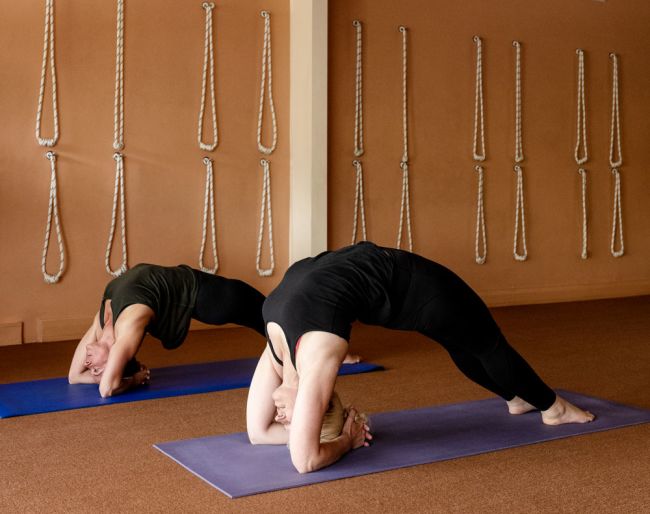 We start in the body. The practice starts by understanding where the body is, in time and space. We begin our investigations here in the arms, legs, torso. We can see with our eyes that perhaps our body was not in the position that we thought it was, our perception shifts. We awaken our understanding of how we think and how our knowing operates. Only then can things change and mental attitude of the possible adversity or suffering alters through understanding, accepting and finally letting go.
Sunday Immersion:  Enjoy a day of yoga and food. Sunday 1 March - $85 includes brunch
The schedule:
8.30-10.00am Asana class
10.00-10.30am Chai and chat
10.30-11.30am Inversions (including variations for beginners)
11.30am-12.30pm Brunch - Homemade GF & Vego savoury and sweet morsels 
12.30-2.00pm Restorative and Pranayama
Book your place:
See you on the mat :)
Namaste,
Nicole Schroeter
Certified Iyengar Teacher
Yoga Path
An Iyengar Yoga School