Pose of the Week: Marichyasana 2
Friday, 11 October 2019 17:58
This week we are looking at
Marichyasana 2
. Recently we looked at
Marichyasana 1
and also
Marichyasana 3
.

BKS Iyengar in
Marichyasana 2
in
Light on Yoga
(1966)
When you first start yoga, you might be bewildered by the number and variety of asanas.
Light on Yoga
, written by BKS Iyengar, and first published in 1966, outlines all the classical asanas in Iyengar Yoga. Quite often we practice these classical asanas or variations of them. (Well, maybe not the ones towards the end of the book!) The word 'asana' means posture or pose, but its direct translation means 'to sit'. Whether this means the original asanas were seated poses, like
Marichyasana 2
, or that one needed to sit in a particular pose to meditate. Or it may well mean that when we're in an asana we need to 'sit' in it.
Be
in the asana in a comfortable, quiet, reflective manner. To inhabit the asana completely, not just with our bodies but also with our minds.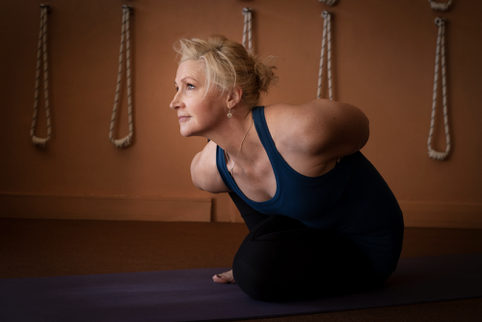 "It is hard to describe ASANAS at one stretch, as each asana has many subtle and fine adjustments, not only in the limbs of the body but on the very fabric of the intelligence and consciousness. One has to train and tone the body to have strength, flexibility, endurance, poise and integration to do it comfortably and correctly for a considerable length of time, even in a meditative posture."
B.K.S. Iyengar "YOGASANAS: The Search of the Infinite in the Finite Body"
So the asanas when practiced with attention to detail and alignment increases the strength and flexibility of our bodies. I'm sure that those of you who have been practicing for a while will definitely agree with that. However, the benefits are greater and more far-reaching. As the body becomes more balanced and stable, so does the mind become balanced and stable. The effect of the asana has a soothing effect on the mind. Here are some words from Tania, a Yoga Path student, who was asked how practising yoga has helped her:
"I like my job (project leader at an architecture practice), but it can be pretty stressful and often involves long hours in front of the computer. This has taken its toll and I have a number of issues with my neck, shoulder and lower back. Also, at times I find it hard to switch off from work. Doing yoga at Yoga Path has made a big difference to both my physical and mental health. I sometimes come to class thinking 'I'll never switch off', but 5 minutes into class all of the extraneous thoughts are gone. After the class, my pains and niggles are gone and I have a much clearer, calmer mind. I feel like a different person."
See you on the mat :)
Namaste,
Nicole Schroeter
Certified Iyengar Teacher
Yoga Path
Learn more about your yoga - become an Iyengar Yoga Teacher